What would the world be, once bereft
Of wet and wildness? Let them be left,
Oh let them be left, wildness and wet;
Long live the weeds and the wildness yet.
–Gerard Manley Hopkins, INVERSNAID
Quoted in the book Oak and Ash and Thorn (OAT) by Peter Fiennes, the above poem largely sums up the message of this work. At its most basic, OAT is a love letter to British woodlands and an obituary to the ancient forests we've lost. More than that, though, it can serve as a roadmap to where we could should be going, if we want to make things better.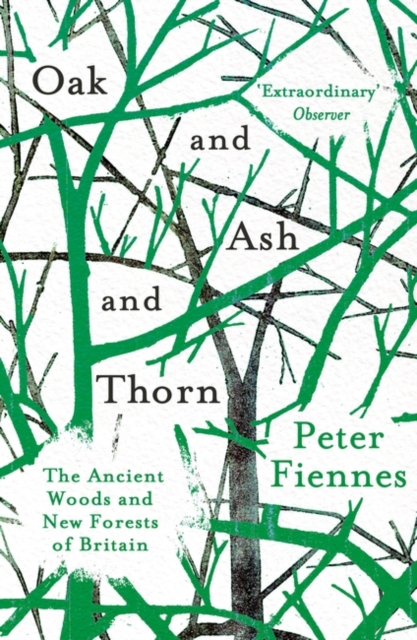 The book is structured in such a way that we follow Fiennes on a tour of different woodlands – from scraps of forest near large London airports, to slivers of wood abutting Sheffield. Along the way he explores our national relationship to the forests and concludes that whilst Britain loves trees, we're afraid of the woods. By citing beautiful classic literature and contemporary studies, Fiennes holds up a very telling mirror through which we're invited to examine the changes that have been made and those we're making.
It sounds, from what I'm saying, like something of a bleak book – but it really isn't. The last chapter in particular is a wonderfully hopeful end to an otherwise sometimes often heartbreaking tale. Yes, in places, it feels like an extended edition of The Giving Tree by Shel Silverstein, but that's down to the truth that we are exploitative and take our woodlands for granted. The prose and mood – by contrast – are optimistic and focus on the restorative power of the woods. I think this is the overall message we're supposed to take from the book – forests are healing places. 
There are many chapters in which Fiennes begins by entering the woods in a dark mood. Whether discussing hunting, macarbre fairy tales, or impotent rage against impending service stations and runway expansions, his time in the trees is always grounding, always mending. 
This book took me far longer to read than many of the others I've reviewed. Written in proper prose, rather than the bullet points of 'how to' guides, the format accounts for some of this – but not all. I think, primarily, it was a desire to actually digest fully the information I'd been fed. It isn't that the prose is heavy, or difficult to read – the difference is that there's nutrition in it. A meal, instead of a snack – nourishing and wholesome and a little bitter. And like a proper meal, the things I've gained from reading it will help build me – shape me – and become a part of me. This book is one of those rare tomes which I'll keep with me, long after I've closed it.
Now, more than ever, I'm determined to make a change.
The Woodland Trust is mentioned often in the book. If you're interested in discovering more about thier invaluable work, you can find out about what they do here.
Have you read Oak and Ash and Thorn? I would love to hear what you thought of it. You can get in touch either here, or on Twitter.