Those of you who've been with me a while might remember my very long post about the single-use and plastic free items in my bathroom, and about how I planned to improve things.
Well, some time has now passed and some of the consumables are coming to an end, so I thought this would be a great time to examine some of the alternatives I outlined last time. In addition to this, I need to replace my toilet brush and soap-trays so I'll be writing about that too.
As I said last time, we use an electric toothbrush. I had planned to buy the LiveCoCo replacement heads, but they do have quite a hefty price tag and you need to pay additional postage to return them for recycling. A chance post on Twitter led me to an alternative option, by Brushd . The initial purchase price is cheaper, and the postage to return the heads for recycling is prepaid. For me, it's a no-brainer – I ordered the Brushd option.
Brushd also do a corn floss in a glass container. The website doesn't actually list floss refills so I was reluctant to buy from here, even though doing so would reduce the amount of waste created by postage. I emailed the company to enquire about refills and they will apparently be adding them at some point in January so I decided to take the risk. Hopefully other brands of refills will fit, even if Brushd decides not to go ahead with adding this product.
When we first moved into the house, and I decided to start using bars of soap instead of pumps, I bought some wooden soap dishes. These have served us really well, but they're… well… wood. And when wood gets wet, it starts to break down.
This is where we get into somewhat muddy waters, if you'll pardon the tentative pun. What do I replace the soap dishes with?
If I replace them with more wood, I'll have to do the same in a further five years and though five years is a reasonable amount of time, it's definitely not the best I can do. My aim with replacing things in this house is to do it once, then never have to think about it again.
With that in mind, what are my options?
PLASTIC:
– Positives – It lasts forever (unless it breaks). It's light to transport, readily available and won't shatter on the tiles if the children drop it. It's really cheap.
– Negatives – It lasts forever, unless it breaks – at which point it becomes landfill/recycling. I don't like the look of it. There's a risk it will end up in the ocean if it's not properly disposed of.
GLASS: 
– Positives – It's beautiful, recyclable, relatively cheap, easily available.
– Negatives – It shatters if the children drop it on the tiles. It's heavy, so costs a lot to transport – both financially and in carbon terms.
ENAMEL:
– Positives – This is one of my favourite materials of all time – especially in the kitchen – and I love how it looks. It lasts forever. It doesn't break if the children drop it. It's light, to tansport costs are low.
– Negatives – Pinterest and that whole serving-chips-in-old-camping-mugs thing has made enamel really popular so it's no longer the cheap, cheerful nostalgic thing it was when I first started using it. Whilst I would love to find an enamel soap dish, there don't seem to be any out there for less that around £15 when you factor in postage and quite simply, I can't afford that.
CERAMICS: 
– Positives – It's beautiful, versatile, relatively cheap, easily available.
– Negatives – It shatters if the children drop it on the tiles. It's heavy, so costs a lot to transport – both financially and in carbon terms. It does break down into rubble, but that seems like a loss of resources.
NOTHING: 
– Positives – It's free! I don't need to source anything so I get more time to enjoy my life!
– Negatives – My sink ends up looking like the slime monster of doom attacked it and I have to clean more often… Which doesn't happen, because I hate cleaning, so the blob begins to absorb bathroom dust and- Well, you get the idea. Just no.
WOOD: 
– Positives – It's cheap, sustainable, light to transport, readily available, and doesn't shatter on impact with the tile floor.
– Negatives – I don't want to have to keep replacing it every few years.
So, as usual, no perfect option. I was moaning about this to my mum, though, and she suggested that I start to think outside the box in my internet searching. Just because I was going to use something as a soap dish, that didn't mean it needed to start out life as one. She suggested searching for 'ashtray' because the decline in cigarette smokers means that these can be had for pennies and are plentiful. She also suggested I search 'trinket dish' as these have largely fallen out of fashion too. Armed with these new search terms, I set to work and soon found a plethora of interesting, vintage articles for no more than a few pounds.
I opted for enamel – as I said above, it's one of my favourite materials – but rather than choose the kitchen-style white-with-blue-rim, I selected patterned enamel on copper. Not as light as the stuff I use for baking/camping, but still pretty practical for the bathroom. I bought the one pictured below, plus a pair of smaller dishes which will be used upstairs – one for the soap and one for the shampoo bar. Even including postage, these three soap dishes cost less than I would have payed for the modern, fashionable equivalents.
If time wasn't against me, I would definitely have had a look around our 'local' charity shops, but by the time I drive over there, I generally only have ten minutes to look around before I have to drive back to pick up the children.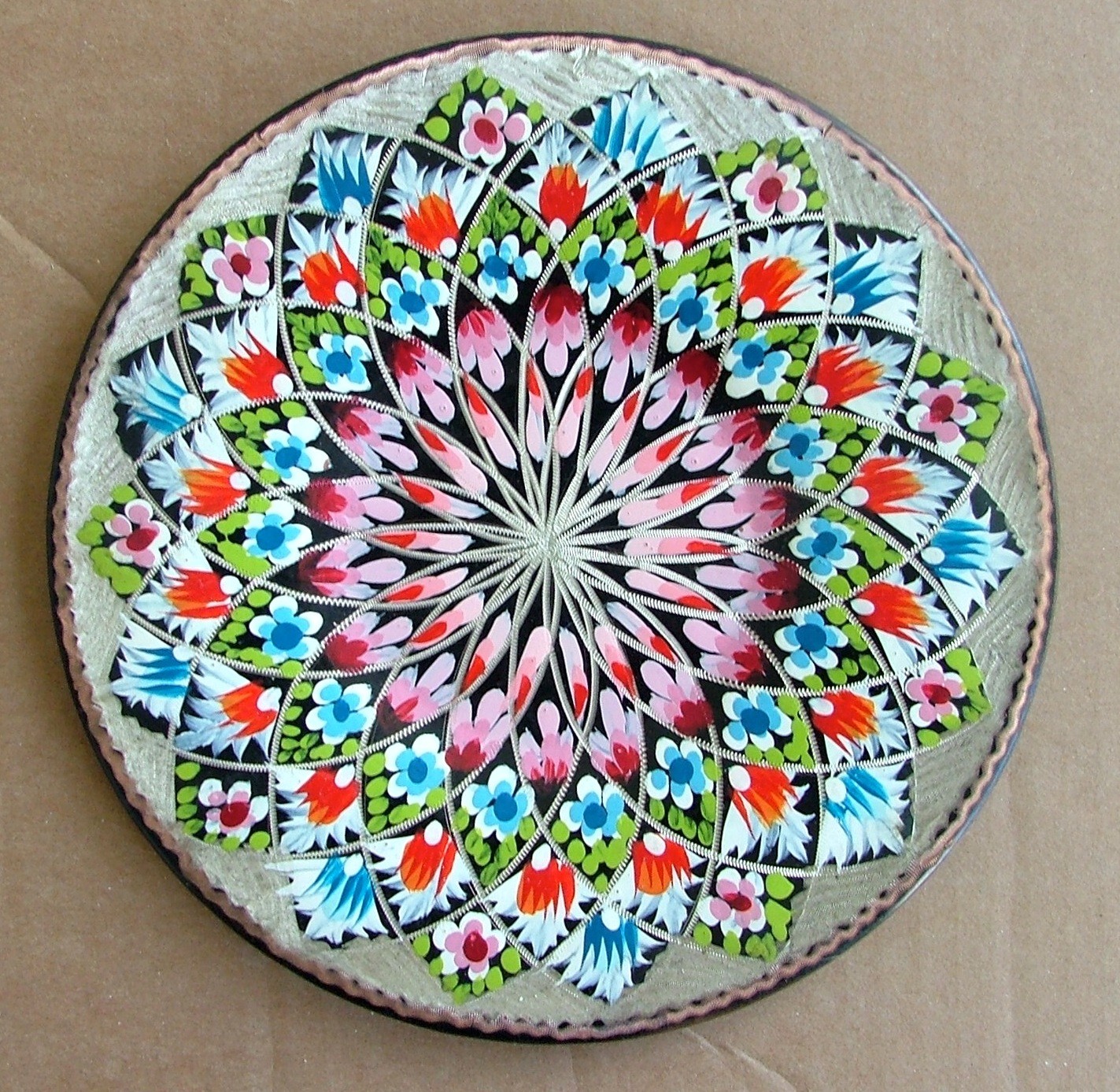 The other item I really wanted, was an eco-friendly toilet brush. The plastic one we have been using has definitely come to the end of its life and I need to up my game. Shamefully, I didn't even think of the fact that as my brush was balding, it was shedding the plastic bristles into my septic tank.
This became another case of thinking outside the box. You can buy some lovely toilet brush holders but these were brand new and expensive, and though I'm not advocating second hand loo-brushes, buying a brand new jug to put a poop-cleaner in really didn't sit right with me.
If you're happy to spend big money to get plastic free items, Utility make this beauty – pictured above. 
Boobalou also do a lovely version that's slightly more affordable. It can be purchased from their own website, or from Ethical Superstore.
I decided I didn't want to pay for the container, though, and though I purchased the Boobalou brush, I made the decision to repurpose an existing object for the container – in this case, stoneware jars.
I seem to remember these being pretty big in the 90s, Changing Rooms sort of era, but happily, they've since fallen out of fashion.
These are absolutely perfect for my needs:
 Not plastic
Second-hand
Really easy to clean (outside with a hose – ha!)
Heavy, so won't tip over with a brush inside (a fear re. the enamel jug, above)
Cost less than £10 incl. postage, but easily available at charity shops etc.
Durable – most are Victorian, These aren't going anywhere in a hurry.
In our case, they also match the bathroom tiles so I'm calling that a huge win!
Until now, I had been scrubbing my loo with bleach, but I've found a refillable soap – Suma EcoLeaf toilet cleaner –  which I'll try out when my new brushes arrive. I'll take pictures too – I'm hoping it will be as pretty a solution as possible!
Hopefully, my septic tank will thank me for all of this!
Right, enough about my loo for one post! I hope you've found some of this useful – I think sometimes it helps just to see the various thought processes behind other peoples' purchaces, in case it solves an issue we've been having with our own.
I'd love to hear any comments you have on this – either here or on Twitter. 🙂